Disney's
new night time spectacular,
W
o
r
l
d
of C
ol
o
r
, is absolutely amazing. Unfortunately it's kind of tricky to see the show the way it was designed to be seen - kind of like Disneyland's fireworks with everything they project on the castle. Fortunately, I'm here to help with this hand-crafted map of the different viewing areas.
---
As the map delineates there are 5 different viewing areas (or "zones") available for
W
o
r
l
d
of C
ol
o
r
.
(click for larger image)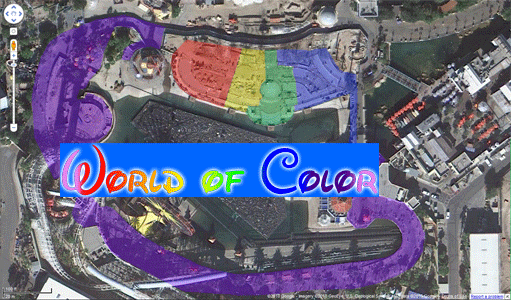 To gain access to the

Blue

,

Yellow

or

Red

zone you have to obtain a FastPass at the Grizzly River Run FastPass distribution area (which has been "temporarily" refitted to issue

W

o

r

l

d

of C

ol

o

r

FastPasses). FYI the Annual Passes/tickets to be used in the FastPass machine MUST have been scanned at the entrance gate - i.e. you cannot take all your friend's Annual Passes/tickets and get a whole bunch of FastPasses without them physically being in the park (however as long as everybody has been scanned into the park, you can designate one person to stand in line with everybody's Annual Passes/tickets while everyone else goes on a ride or hangs in the shade).

Note: When the show originally premiered, it was possible to obtain a fastpass with picnic lunches or lunch reservations at Wine Country Tratoria. For an archival description of the picnic lunches,

click here

.

To gain access to the Preferred Reserved viewing area (or "

Green

" zone) you have to call Disney Dining (714-781-DINE / 3463) and book a Prix Fixe Dining meal (dinner only) at EITHER: Ariel's Grotto, Carthay Circle Restaurant, or Wine Country Trattoria. To see pricing and check availability, check out Disney's website here.
To gain access to the Overflow viewing areas (or "

Purple

" zone) just show up around show time for most of the areas. However there are a lot of benches that get staked out.
As of 6/27/2011 I have viewed the show numerous times: from the
Red
/
Yellow
zone Boardwalk (6/13 via
Fastpass
); from the
Purple
zone, near the Silly Symphony Swings (6/19 via walk up); from the back corner of the
Red
/
Yellow
zone (6/26 via
FastPass
); from the back of the
Blue
zone (11/23 via unreserved picnic); from the edge of the play fountains in the
Green
zone (7/2 via
Prix Fixe Dining at Wine Country Trattoria
and 9/15 via Prix Fixe Dining at Ariel's Grotto); and from the
Purple
zone, by the California Screamin' launch pad (7/3 via walk up).
I have also sampled all of the adult picnic lunches and favor The Taste Of Asia.
Now the Problems
As of July 17th, 2010 (Disneyland's 55th birthday) there are
2
3 showtimes being marketed to the general public: 9:00pm, 10:15pm, and 11:15pm
however due to high demand for the new show an 11:15pm show has been consistently added to the point where it is an operational expectation for the time being
. To "fully experience" the show, you pretty much need to be in the middle of Paradise Park (basically cutting a swath through the
Yellow
,
Blue
and
Green
zones). FastPass distribution behaves as you would expect it to, with the
Blue
zone 9:00pm tickets being distributed first, then
Yellow
zone 9:00pm tickets and then
Red
zone 9:00pm tickets, followed by
Blue
zone 10:15pm tickets, etc.
My Recommendations
If you want a "best seat in the house" to "fully experience" the show you have to spend either time or money:
If you spend time (i.e. not paying for food), I would recommend getting to DCA before it opens and be prepared to hustle over to the FastPass distribution area and THEN be sure to arrive back at your designated zone at least a half hour before the FastPass suggests.
If you don't mind paying for dinner and a show, I would recommend picking up your picnic (distribution begins at 11:30am) or making your Prix Fixe reservations as early in the day as possible (reservations start at 4pm) in order to be finished with your meal in time to mass outside the gate at least a hour and a half before the FastPass suggests.
Additional Notes
I would only recommend the

Purple

zone for people who have "fully experienced" the show before as it's kind of like watching the fireworks from It's A Small World (which is still better than watching them from the Esplanade between the parks with no music). What I mean is that the view from the

Purple

zone is a technically fascinating and exciting view, but it doesn't carry quite the same magical impact as any of the other zones (mostly because you can't see the water screens). I actually appreciate what Disney says about the

Purple

zone. "The views from these locations are certainly different, but the choreography of the fountains, bright bursts of color and music can be enjoyed from all around Paradise Bay" (from the official Disney Parks Blog).
I would only recommend the boardwalk of any viewing area if:

you are in an undesireable zone/tier (for example way in the back or on the far edges of the

Red

or

Blue

Zones)
AND

you are prepared to get wet


PLEASE NOTE: These are just recommendations for those seeking a "full experience" of the show. The show is enjoyable and breath-taking as long as you can see the lagoon, but there is potential for confusion among guests if they never see the show from the "sweet spot".


There is a very enjoyable pre-show which at the present time occurs ONLY before the 9:00pm show.
Last but definitely not least, you WILL get wet. This is a water fountain show (of such magnitude that it actually creates its own weather patterns) and creates a consistent, fine mist which sprinkles down on you for about 30 minutes. And once in a rare/great while a fountain might misbehave and soak you if you're in the first two tiers. Remember: only forewarned people have forearms. ;-)